99 Cent Costume Workshop
Every year that I have been to Orycon (which is the last several) the Portland Costumer's Guild has put on the 99 Cent Costume Workshop.  I am sharing this great idea so that other groups might stumble upon this post and decide to do the same thing at their convention as well.
So what is it?
Well the guild brings in multiple boxes of scrap material and other various bit and pieces of electronics and other stuff.  All of it are things that no one really wants anymore.  Some of the fabric is sizable, like a half to full yard, but most are smaller pieces like remnants from a pattern cutting.  All of these items are dumped into a mound on the floor in the front of the panel room while the attendees gather in the chairs for instructions.
Once the appropriate time has come and everyone that needs to be there from the Guild is there the "workshop" begins.  Each year there is a different theme and we are instructed to not only make costumes from the items in the heap, but also generate a short back-story for our character.  While there are not many kids that go to this workshop it is a shame as my kids have really enjoyed going to this every year.
We are given about 45 minutes to generate our costumes and stories.  In addition to the various scraps of fabric, ribbon, electrical cords and the like we are provided with glue guns, duct tape, and scissors to assist our endeavors.  There is a good amount of teamwork that happens as people see where others are going with their costumes and either offer to help them or find items in the heap that would add to their décor.
Is it a contest?
In a manner of speaking it is, but the prizes are generally low key.  The first couple years I did it the Costumer's Guild gave out prizes that they made during the event pulling from the same material that we used to make our costumes.  Of course to do this requires you to have enough base material to draw from.  One year they decorated CDs, another year it was hats, and one year it was these odd disk shaped things (see the picture from 2009 below and look at what my kids are holding).
There are also usually other prizes that are given out for things like "Best Costume", "Best Back-story", "Best Robot", "Best Animal", and "Best of anything you can think of".  Usually there are enough small prizes like kid's books, candy bars, or light switch plates that everyone gets something.
And then when all is said and done there is the packing up of the event and the endless encouragement from the Guild to take home anything you want from the heap.  This is because if they wanted this stuff it wouldn't be in the heap in the first place.
Themes and Pictures from Years Past
2010 – Alice in Wonderland
This time we were to make characters that would be auditioning to be in Alice and Wonderland by Lewis Carroll.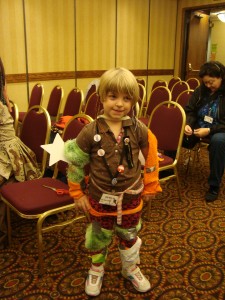 This is my daughter in her completed Multi-Color Cheshire Cat Costume
My son made himself into a robot which would protect Alice from the Red Queen.  He did pretty much all of this himself, I only assisted with a small portion of the hot gluing until he figured out how to manage that himself.
My entry was of Little Blue Riding Hood who was rather upset about having being beat out by Little Red Riding Hood for the other gig and decided to try out here instead.  Sadly as I was wielding the camera I didn't score a picture of me.
2009: Alien Dreams
We were all aliens whose alarm clocks had sadly woken us each up from a great dream, and as we rushed to get ready for our day we had just enough time to piece together the great inspiration of our dream that we had been having prior to waking up.
Here are the three kids that attended the workshop in 2009. Left is Z, who dressed as a kind of robot complete with his weaponry.  Right is my son, who was a statue that was protecting someone (this picture does not show the great lampshade head armor he had engineered).  And Center is my daughter who was a teenage princess complete with her cell phone crown.  [Note: I just finally got the piece of material she is wearing as her dress removed from her dress up bin this last weekend]
Sadly, again, there is no picture of me and my great costume from this year that I have a copy of.  I was so busy helping these 3 with their costumes I didn't have time to work on my own.  So in the last 5 minutes Guild members and the kids were throwing together a costume for me.  It included a dress type look, complete with two Earth idols, one of each from the great icons of the planet as understood from space, Indiana Jones and Sponge Bob.  I believe I still have both of them around somewhere.
Beyond Orycon
I think that this is not only a great idea for a Science Fiction Convention like Orycon, and I sincerely hope it will be back again this year as me and my kids look forward to it all year, it can also carry over to a birthday party or other gathering.  I can see this working well for a pre-teen or teenager Birthday party.  I can even see it working at something like a bachelorette party where you make wedding gowns.  The possibilities are virtually endless.  So have you been to an event like this one?