So while cruising the internet for other great rpg blogs out there I ran across RPG Blog II. While perusing The Zack List I found a website for dice and thought I would take a look. My collection of dice is sadly small and I would like to add some more specialty dice to it, like the body parts die that my hubby got me at Gamestorm a couple years ago. In cruising through the dice set I found the ultimate gamer die that I think may find it's way to a few of my friends for this coming Christmas. The Amazing D-Total Dice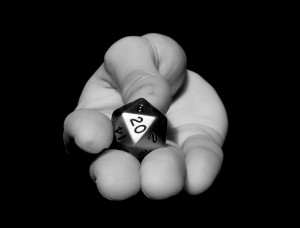 looks most interesting and if nothing else would give us something to talk about at the gaming table before game gets going.
The amazing thing about this die is that it is really 17 dice in one. In fact other then percentile dice and any custom stuff you have this die would replace most of them. Here is a video showing how it came to be and how it works.