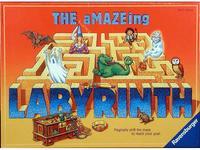 For my my daughter's 6th birthday she received the board game The aMAZEing Labyrinth from her step-dad.  Though I am ashamed to admit it took us months to finally get around to playing it we finally did.  The game is rated ages 7+ but we usually find our kids catch onto board games a bit ahead of the label put on them, not really sure how or who determines that age anyways.
The game is fairly basic once you get over the initial learning curve.  There is an ever changing grid of tiles that your piece must navigate through to obtain a number of treasures as determined by picture cards.  The aMAZEing Labyrinth requires no ability to read to play, aside from the rule book itself, making for a good family friendly game.  There are also no spinners or dice, which I find makes a game more enjoyable with elementary school aged children who tend to fiddle with those sort of devices too much.
After playing twice I highly recommend when laying out tiles and swapping tile locations during play that you take care to make as many pathways as possible.  All of the tile pieces work together to make the tunnels of the labyrinth that gives the game its name.  By making a point of creating long tunnels you will greatly shorten the game time and greatly increase the success of the younger kids who can't think too many steps ahead.
Since this game is more widely available then some other "gamer" board games, we found it at Toys 'r Us this can be a great gift for Christmas for a younger child in your life.  If you are looking for another review of The aMAZEing Labyrinth check it out at BoardGameGeek.com