A Better Anniversary Gift List
A couple of years ago I stumbled upon a Geek Version of the Traditional Wedding Anniversary list. The list is from Geek Dad on Wired and here is the link to the Geek Anniversary List so you can enjoy it too. Since then my husband and I have been using this list to determine our gifts for the year. We shake it up some since they don't always fit. Like last year (5th Anniversary) was smart phones, but we both had good working phones, so we swapped for an earlier year we had missed out on, geeky t-shirts. I will share the shirts we got in another post later.
Board Game Gifts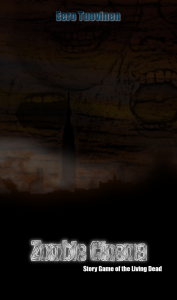 So with this year being our 6th anniversary and us both really enjoying playing board games we went with the scheduled theme for this year. Last month we went to GameStorm (our local Gaming Convection) it made the shopping that much easier. While my husband is generally good at choosing gifts, he also tells me that he prefers me to be direct and not hint about. So when I found that Guardian Games was selling a game I had really enjoyed playing a few years ago at GameStorm I told him that is what I wanted. I also got his game from the dealer's room as well.
I asked him to get me Zombie Cinema. It is a true Indie game in both feel and content. The game play is virtually all storytelling with a roaming narrator along with some basic dice-offs and a board to make sure the story progresses in true zombie horror style. When I played it at GameStorm we set the patient zero on an airplane at PDX and the trigger as airline food. It was a crazy story that I still have fond memories of several years later, which is the point in any story-telling game after all. And amazingly I made it out of the scenario alive, though barely. Sadly my current gaming group isn't big into Indie-style storytelling board games so it may be a while before I get to use it. I do have a couple in Wisconsin that it would be fun to play the game with, perhaps life will let me travel to them soon.

For my husband I got him an expansion for one of our new family favorites, Sentinels of The Multiverse (2nd Edition)
. This game is a great family game as you are all playing together to defeat the bad guy. There is a lot of replay value as their are multiple villains and settings to choose from as well as super hero characters to play. Really it includes something for everyone. Since we have the base set and a friend picked up some expansions for it, I went with a different expansion and am really looking forward to playing it soon. I got him Sentinels of The Multiverse: Shattered Timelines
. Which has several new villains, heroes, and settings. I am really looking forward to trying to beat The Dreamer, but I am not sure we will be able to manage that one. Guess I will update you if we ever manage it.
We love embracing our geek when it comes to gift giving. What is the geekiest gift you have ever exchanged with someone else?