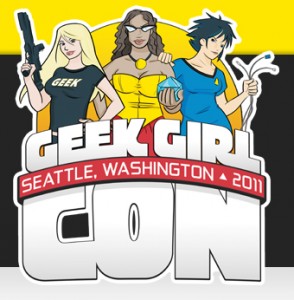 I just found out today, via Twitter, about a new con that is having its first event this year. It is Geek Girl Con!!!! The con is meant to celebrate all things geek in all of us geek girls, past, present and into the future. I would love to take all my Geek Girl followers, but alas you are not all local and the event will be held in Seattle, WA on the weekend of October 8-9. And the best part is that the cost is only $35 for both days.
Having been, in many cases, the only girl at the gaming table I know it would be awesome to be at a con dominated by geek girls like me. If they host an rpg schedule and I can manage to get to the con (which I am hoping to do) I will run a game for sure. It would be awesome to run for an all girl group, so different!!!
Hope that you can make it and support all of us great geek girls!!!