There are a ton of cutesy costume ideas out on the internet for all the regular people, but us gamer folks tend to like things a bit more interesting.  This costume idea doesn't even really require that you purchase or make all the items, there is the off chance you may even own some of them already.  So you ask, what did I find out on the web.  Well, I found costumes from the anime series The Big O for Roger Smith and Dorothy.
For those that haven't seen this series, I recommend it as this anime is quite entertaining. It is set in a future time, where people have lost their memories. Roger Smith is an expert negotiator, who befriends the android R. Dorothy Wayneright and uses his giant robot to help battle the evil forces that try to influence the world.  He is at odds with the local police, but is also an asset to them as well.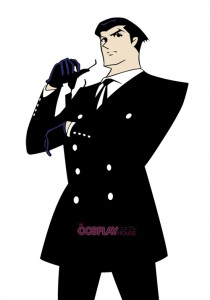 Roger Smith's look is a simple black suit which he is always in. I found that you can buy not only the suit, but also order a wig to don his coif if you can't manage it with your own hair.  While ordering the costume is the easiest way to get the look, any black double breasted suit jacket and sufficient shoulder padding and tailoring could provide the desired effect.  Just don't forget your dark sunglasses.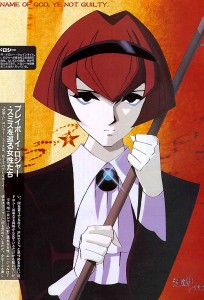 R. Dorothy Wayneright, usually just called Dorothy on the show has a more particular look; plus with her being an android there is a greater challenge in really pulling of her character.  Thankfully her motions are only slightly stiff and will not have you out needing to learn to do the Robot just to imulate her.  I think the biggest challenge would be to pull off the monotone voice pattern.  Just watch the episodes a lot and you should be able to get it down.  Her dress is also basic and in black, though her hair is red, and you have to have the black headband as you can't be Dorothy without it.  On the same site as Roger's outfit, I found you can pick up a Dorothy dress and even order a wig to have the same hair style.