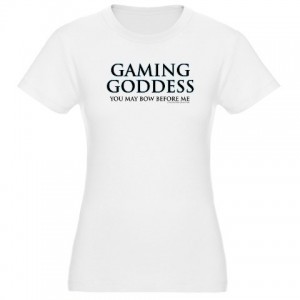 What Sci-fi Convention trip is complete without appropriate t-shirt, hoodies and other clothing to wear during the day before costume time his in the evening? Even more so for gaming cons like Gamestorm. My personal shopping favorite for my con day wear comes from Cafepress, sure the prices can be steep, but the slogans can be priceless.
Take this story for example. My husband, who loves to play a thief, was playing in a cleverly run game by one of my favorite DM's in which he was playing a paladin. And not just any paladin, a teenage, male paladin. The group started out as orphans and ended up saving the world and being a key force in the war. Now as if a standard paladin isn't bad enough to deal with, try one that is 16, trusted by the army, and is wielding an artifact sword of his deity. So while this was going on (and back when we were still dating), I found the perfect shirt at Cafepress on the front it had hearts and a unicorn and said "Crazed Paladin Groupie" and on the back it said "So worth the atonement spell…". So I bought the shirt and dressed in it and plenty of glitter (even glittered my kids too) and we made a special, surprise trip to his game and brought his favorite peanut butter cookies. He was quite surprised and rather enjoyed the "groupie" attention he got that day.
Nothing I can wear to my day job, but it has caught many peoples attentions at conventions, which is the point. The number of shirts, hats, hoodies, bumper stickers, coffee mugs, mouse pads, and even underwear you can get at Cafepress is nothing short of shocking and they cover a vast array of topics. I have also found great shirts there for the gamer guys in my life. Happy hunting and I would love to hear what great gamer clothes you have found out there on the web.