Looking for a way to make sure your young, or freaked out, lost child can get back to your caring arms?  I know when we have taken our kids into crowded places like conventions, zoos, or bigger places like Disney World we are always trying to keep an eye on them so they can't get lost.  But as all parents know some kids are simply slipperier than others, for those that may get separated from you, here is a product I found tonight that can help.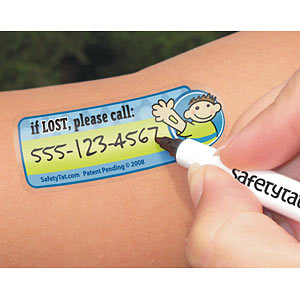 It is a removable tattoo with the means to write your cell phone number on it.  No more need to take a sharpie to their arm when you to the Country Fair to be sure that a concerned adult can call you to claim your lost little one when a separation occurs.
According to the write up on Think Geek, the tattoo is highly durable and can last as long as two weeks.  They also suggest using it for things like medical conditions and food allergies when dropping your kids off in the care of another adult that may not know, like a B-day party.  The only downside I see is that it takes a special pen to go with it, guess you better set it all up in a zip-style baggie so you don't lose it.