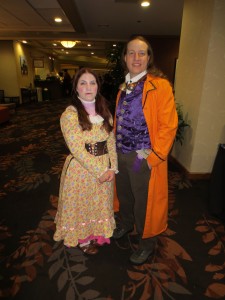 As the calendar moves from August to September we head towards the last days of sun for a few months here in the Pacific Northwest. With the fall comes the rain, and for me that is the sign that it is time to start sewing costumes again. Having weather a touch too icky to want to go out makes it all the easier to get going on the next round of costuming.
Even though we haven't seen the rain yet, I still need to get my sewing area back in order. We have already started discussing ideas for Halloween and Orycon this year. Nothing new for me this year, at least I don't think so. However, my daughter will need a new costume and probably my son as well. For my daughter this year it is a belly dancing outfit that uses the same pattern mine does, but in different colors and without the vest and waist-cincher. As for my son I am not sure. Finding costumes for the nearly teen boy is challenging at best and downright impossible at worst. Especially when you have to rule out anything that involves a mask or face make-up. At least he tolerates hats these days so perhaps that might help.
Costume Ideas
Here are some links I get ideas from for costuming as well as some new finds that look fun. Perhaps these links will spark an idea of your own…
Patterns & Fabric
Once we get our ideas in place it is time to get patterns together and some materials to make our costumes with. In some cases I make my own patterns by using newspaper and the kids' clothing to help with sizing. I have had mixed results by doing this. Likely that is because I am rarely being very precise when I take that approach. For better results I use a commercial pattern. For my husband and son I can usual use them as-is out of the package. However, my daughter and I are more of a challenge and it usual involves merging several different sizes of the pattern pieces together. Thankfully this has usually worked out for me quite well.
Here are some of the places I like to shop for patterns and fabric. I am sure there are likely some great options in your neighborhood (and if they sell online we would love to hear about them in the comments), but no harm in knowing a few more places to look.
What are your plans this year?
I would love to hear what your plans are for you and/or your kids for Halloween this year. Or for the next convention you are going to. Please share in the comments below.