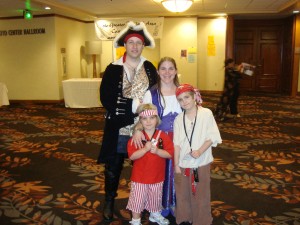 Kids and Con
Perhaps one of the greatest challenges I have in being a gamer parent is how to incorporate my kids into my gamer life. Specifically without boring them and without them driving me crazy. Orycon is exactly one of those challenges.
I didn't discover Orycon until my husband and I got together. By then I already had two kids and was fully into mom mode. The first couple of years that we went we did not bring the kids. I was still getting my feet wet and they were pretty young, we weren't sure if they could handle it, or us handle it either for that matter. Last year we finally took the leap and brought them with us, well for 1/2 of con that is. They came with us on Friday (was a no school day which helped) and stayed over night. We arranged for my mom to pick them up just before dinner on Saturday which worked out great. Splitting the time like that let us enjoy a night of costumed fun with the kids, but also left us with Saturday night to enjoy the costume time and room parties without the little ones in tow.
Orycon Child Policies and Care
Orycon has some good, and clear, policies about kids at the convention which can be found on their website. They also have child care that is offered and they make a good effort to keep it secure which I think is great. Now while looking up the links to paste here for you, I discovered that they have made a change this year to the policy on unattended minors. This year kids 6 and up may be unattended if they have the ability to behave themselves, otherwise I believe they are escorted to child care at your cost (at least the child care part was there last year). Also the kids have special badges that include a spot for parent name and phone number on the back of them, just in case. If you want to take that a step further you could take a lesson from the Oregon Country Fair and use a sharpie to write your name and phone number on your child's arm. Presumably, short of a cannibalistic kobold attack at the con, they shouldn't be able to misplace their own arm.
Kids and what to do
I will say that there are only a limited number of sessions that young children, elementary school and younger would find interesting. At least that was the case last year, I am hoping for more this coming year. I suspect next year I will run at least one so I know there is something for my kids to get into. As an exception to this general statement, last year the Greater Portland Costumer's Guild put on two events that my kids really enjoyed and are hoping to attend again this year. Those were the 99 cent costume workshop, an event where under limited time and supplies you are to construct a costume that fits the rather loose theme provided, awards for everyone at the end. Also they enjoyed the Friday night milk and cookies room party, this year I am going to bring some cookies to it. I sincerely hope both events happen again, and earlier enough that my kids will still be there.
Don't forget the costumes
The kids also enjoy dressing up in costume and seeing all the costumes that people put on for the event. If you decide to bring your child I highly recommend bringing 1-2 costumes for them as well. In fact just let them stay in costume the whole time, how often do they go someplace where that is alright? Since Orycon is only two months away I will be adding another post afterward about how it went this year with the kids.