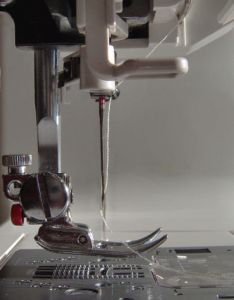 I was rather proud of myself yesterday morning, when I was quickly reminded that pride even in its smallest moments is a deadly sin. I no more then said something like, "This shirt proves I can sew well", when I noticed that I had sewn the main panel on the back of the shirt inside out. Oh those most pesky white on white cotton patterns. I had made it half way through the shirt, front panel with the double layer sections for buttons completed, back panel with its double layer shoulder sections complete and firmly attached to the front. Even the two part, double layered collar was attached and I was adding the first sleeve when the error was noticed.
Ah but will anyone notice? In a dark room, probably not. If he never takes off the vest and coat that I am making to go over it, no they wouldn't. But I must remember that this is a costume for con, which of course means that it will be looked at closer then the clothes we wear in our everyday lives. And I hang with the costuming people as much as I can at con, so this will not do at all. Can't just undo and start over as seams have been clipped and trimmed so I am committed and past the point of no return.
That leaves only one options left. Back to the fabric store and start over. Lucky for me I was transporting my boy to and from his dad's for a Cub Scout meeting yesterday which put me near the fabric store I frequent. So after dropping him off I headed over to Fabric Depot, to pick up some more of the dreaded white on white. Also managed to get some more material for my costume as well as my daughters. And most exciting of all found the crinoline for our costumes, it wasn't in the section I had looked before, but now I know where they keep it.
Still need some ribbon and my daughter to pick out the material for her fairy wings. I fear once I know how to make wings and more importantly she knows I know how to make wings, I will be making lots of them. I hope they are easy to make, it may be a good home-made birthday present for her friends this year….