Tired of playing Monopoly and Life for the millionth time with your kids, ready for something new and interesting to play on game night. There are a wide array of games that can meet your needs and now that there is the internet to make ordering easier these games are available to almost anyone. I have been slowly growing my collection of these card and board games for the last decade or so. Here I plan to review these games as a way for you to determine which might work best for your family. With any luck you should be able to find a number of new games to try out.
Lets start with a simple, yet complex card game called Fluxx. The game starts with the simple rule of draw one, play one, simple enough. As the game goes on people play goals for winning, which constantly changes as well as they can play different rules that can change a variety of aspects of the game. While it sounds complicated you will find it is easy to play and with all the expansions, like Family Fluxx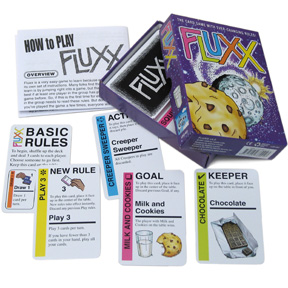 , it is a great family game. This is one that I enjoy playing with my son, age 8, and my daughter, age 6. It is a bit over my daughters head she enjoys playing it none the less. You can pick it up at most any game store, in the Greater Portland Area we like going to Rainy Day Games as they have a great selection.