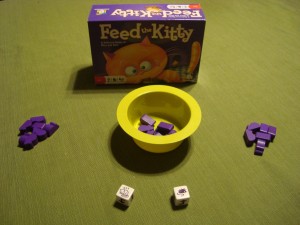 Overview
This adorable little game is perfect for family or friends to play together. This game takes no reading skills to play and doesn't even take much in the way of counting either so any child that can keep the dice out of their mouths is old enough to play. The whole idea is of the game is that there is an invisible cat whose food bowl sees a small group of mice in and out of it through the actions of the dice. The game is pure chance, which means that like the classic game Candy Land you can't through the game in your child's favor if they aren't able to lose well yet.
Game Play
The game play of Feed the Kitty is pretty basic. The components of the game are small wooden mice tokens, 1 plastic food bowl, and two 6-sided dice. Youngest player goes first and play proceeds clockwise around the table. The mice are divided evenly between the players with any left over mice placed into the food bowl. The player rolls the two dice and follows the actions shown. The various actions for the dice are:
Sleeping Cat: The cat is sleeping – nothing happens
Food Bowl: The cat captures a mouse – place one of your mice in the food bowl
Mouse: A mouse escapes the food bowl – take a mouse from the food bowl (if there is one) and place it in your mouse pile
Arrow: A mouse moves to a new pile – pass a mouse to the player on your left
Play continues in this manner until only one person has mice left in their pile. The nice thing is that if a player runs out of mice they are not totally out of the game. They could get passed a mouse from the player on their right.
Pros
Requires no reading so perfect for those that can't read
Game play is fast so games don't take very long
The rules are simple so it is easy to learn
My kids still enjoy it even at 12 and 10
Cons
Game is pure chance no skill involved
Because it is pure chance you can't throw the game to make it easier for your kids to win
How to get the game
The game is still in print and should be available at your local game store. Or you can order Feed the Kitty online via Amazon.