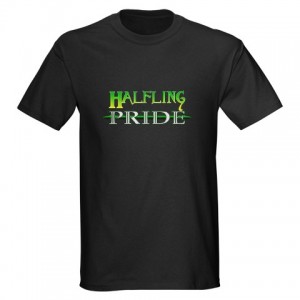 Here I am sitting at the game table playing Call of Cthulhu, we are interrogating our prisoners from the first boat we took over, and I noticed on my laptop that Cafepress was having a sale on hoodies right now. So, being in need of a new hoodie (the rats ate holes in mine) I went cruising.
I haven't settled on a hoodie yet, but I did find this great shirt that really is appropriate for not only me, but also as a theme shirt for this blog. Having been given the nick-name halfling in high school, knowing that I am not likely to get taller (I am only 4'10") it seemed best to embrace the moniker and be a proud halfling. The image was only added to by my penchant for being barefooted and love of food.
Guess I will need to add this one to my closet too. If I keep finding all these cool gamer shirts I am going to have to buy some more hangers soon.