Another year, another wonderful gaming con to go to!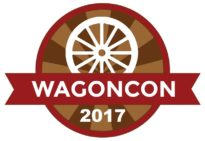 WagonCon 2017 is getting prepped and has their Kickstarter in place. I recommend you check it out and get on board for this fun gaming convention in The Dalles, Oregon.
This is a boardgame, rpg and miniature rpg convention.  This is their second year and the team in charge are experience gamers and overall great people.  If you are looking for a smaller more intimate feeling convention then I highly recommend you come join me and my family at WagonCon 2017.
The Kickstarter is already fully funded so no worries that the event won't happen.  Get your membership taken care of before the March 3rd deadline.  I look forward to seeing you there!