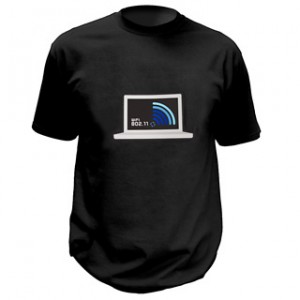 So after a discussion during dinner tonight we determined that the game room needs a clock. This is something that had not occurred to me as I could look through to the microwave in the kitchen and read the time just fine. However my near-sighted husband can not perform this seemingly simple feat, then again I can't read a character sheet without my glasses on so we both have our issues. So off to the wonders of the internet to find a clock that works well for dinner, homework, and doesn't stand out among the Robo Rally and Killer Bunny games style games that adorn the shelving units in our game room (which also happens to be where we eat dinner too).
While cruising the web I have yet to find a clock I have fallen in love with (suggestions welcome), but did find a shirt worthy of posting on the blog. I have seen electronic shirts before, mainly those that play music or change with volume of the surroundings, but nothing like this one.
This shirt claims to detect the Wi-Fi signals around you!! Nothing in the long write up explains if it tells you if said Wi-Fi's are secure or not, but I guess if you wear it to your local coffee shop to check if it is a hot spot you aren't worried about that. If you pick it up, take care around the washing instructions as the shirt is powered by a couple AAA batteries neatly tucked into a holder in the hem. Also I would have to agree with the comment that countered the write-ups suggestion to wear this tot he airport, unless of course you enjoy the full body pat down.